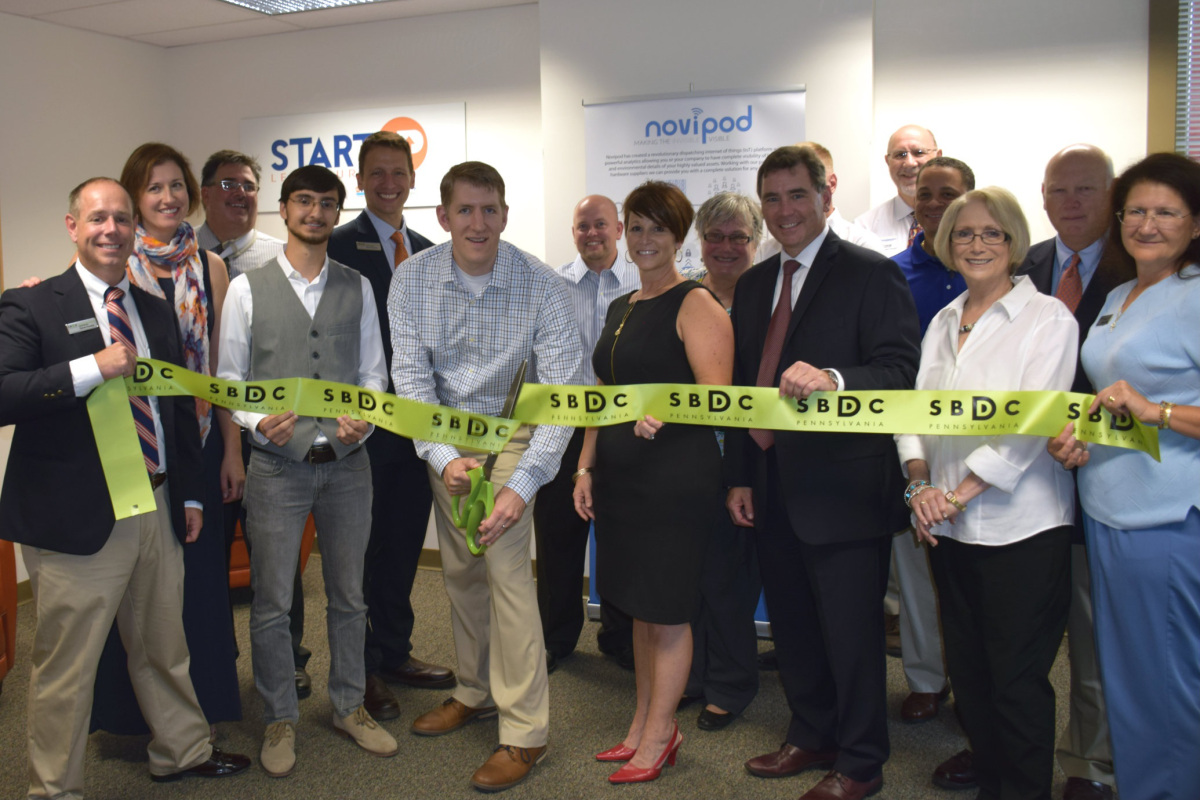 By Emily Wheeler

Novipod, LLC, is a technology company, and one of the SBDC's "Startup Lewisburg" Incubator members.
The company is led by co-founders Michael Levan and David Capatch, who started the company officially in 2013 from the SBDC entrepreneur incubator.  Novipod integrates uniquely versatile, cloud based Internet of Things (IoT) software.  Novipod's patent-pending system integrates hardware devices with customizable software, which is a completely original and new way to monitor resources.
One of their featured product offerings is Organ Tracker, an application that provides "high precision GPS location, temperature, light, shock, humidity, and pressure sensors to organ procurement organizations, labs, pharmacies, and hospitals".
Novipod's mission is to provide solutions and analytical intelligence that empower people to make better decisions, and their vision is to create a better world by providing the means to increase transparency and efficiencies through better technologies and methodologies.
Co-founder Mike Levan describes how Novipod has taken the opportunity to embed themselves within the Bucknell ecosystem.  One benefit of doing so has been their ability to hire student interns who provide valuable skills.
Mike and Dave explained how they got their name out to students at Bucknell through their connection with the Career Development Center as well as with the Engineering department.  The team set up a table for Novipod at the Career Fair, which led to much student interest.  In addition, Mike is friendly with Associate Professor of Mechanical Engineering, Charles Kim, and Associate Professor of Biomedical and Electrical Engineering, Joseph Tranquillo, and has done work with the two and their classes.  In turn, he has been able to bring awareness and promote Novipod to students.
One current intern is Bucknell Senior Jared Feindt, who is majoring in biomedical engineering and minoring in mathematics.  Jared explains that his responsibilities are to  increase the efficiency of programming the GPS tracking devices so that the team can get the customer a device with great settings that they want faster. To do that, he is looking at information on the hardware, performing tests, and documenting what he finds.
Novipod's work with student interns from Bucknell University was recently featured in the student newspaper, The Bucknellian, in the feature article, "Ideas and internships incubate downtown"
Novipod is just one of many incubator companies who understands the value of integrating themselves within the entrepreneurial environment at Bucknell.
"About Novipod." Novipod. Web. 20 Apr. 2016.