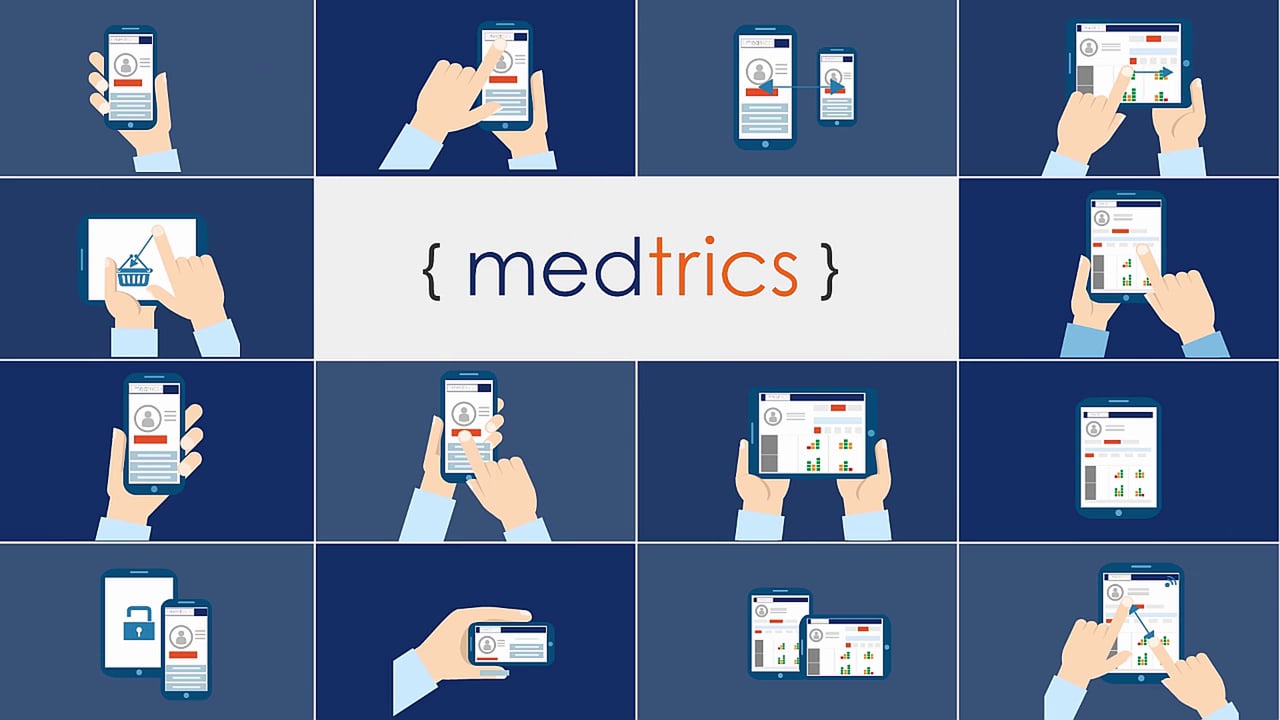 Medtrics Lab is another  "Startup Lewisburg" Incubator company that has had great success with their business and that has also integrated their company within the entrepreneurial environment at Bucknell.  As described on their website, "Medtrics Lab is the next evolution in medical education technology. [It is] a modern cloud based Graduate and Undergraduate Medical Education management and collaboration platform that was founded by and created for physicians…to be incredibly simple and intuitive."  Medtrics Lab explains that "in order to effectively train the next generation of health care professionals, we must fully leverage the power of modern technology."
In developing its platform the Medtrics Lab team has benefited from the SBDC's affiliation with Bucknell.  One of the main benefits has been from student interns.  Medtrics Lab has also utilized student interns from other local universities including Bloomsburg.
During the Fall semester 2014 Medtrics Lab utilized Bucknell's Marketing, Innovation and Design (MIDE) students and faculty to help develop a comprehensive marketing plan to help get the business off the ground.  SBDC student intern, Emily Wheeler who is an Accounting major Class of 2016, had the opportunity to work with a team of MIDE majors, Joey Stadel, Megan Smith, and Travon Martin all from the Class of 2015, along with Professor Osborn, an Assistant Professor of Management who teaches many of the MIDE courses, to assist in developing this marketing plan.  The final package included a brand analysis with redefined logos and a value proposition for the company, a review of the company's competitors, a pricing strategy, an analysis of the company's key differentiators, a purpose and vision statement, and promotional techniques.
Emily went on to work with the Medtrics Lab team for the spring semester 2015, helping maintain the company's blog and assisting with other administrative tasks to get new medical schools integrated on the Medtrics Lab platform.
Santhosh Cherian, the founder of Medtrics Lab, has continued to take full advantage of student interns.  The team currently has three interns from Bucknell and one from Bloomsburg.  Medtrics Lab was able to recruit qualified interns by marketing their team at the Bucknell Career Fair.   There were about thirty interested applicants which was narrowed down to the current five interns the team has.  Santhosh explained that the main objective he has with the interns is to give them autonomy within their set responsibilities. Santhosh has been very pleased with the work the interns have provided for the Medtrics Lab team.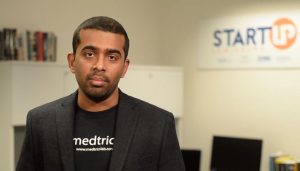 Co-founder Santhosh Cherian, Medtrics Lab, Photo courtesy of StartupLewisburg video
In speaking with the current Bucknell interns about their current responsibilities, how they initially learned about Medtrics Lab, how they went about applying for the internship, what they have gained from the internship, and what their longer terms plans are with working for the team, it is evident that the interns have a mutually beneficial relationship with Medtrics Lab.  The following Q&A's are with three of the Bucknell student interns.
Q&A with Jon Davis, International Relations and Affairs Class of 2016
What are your current responsibilities with Medtrics Lab?
Medtrics Lab cares deeply about their interns having a great experience. My experience has shown that each person is treated as a team member and can make their voice heard. Santhosh (Founder of Medtrics Lab) and Chris (CEO of Medtrics Lab) work on a lot of projects and allow their interns to select which projects interest them most. I've never designed videos but the concept of creating a video library appealed to me. Therefore, the video library became my project. Unlike other internships, which have a minimum hour requirement each week to keep interns working, Medtrics Lab allows the interns to pick their hours. I work about 12 hours a week on the project because I'm motivated to get it done. Each of the interns I've worked work has been able to have a lot of freedom to pursue their own interests within the company. The video library project was completed, I've moved to preparing presentations for new clients and helping to provide feedback for new software features.
How did you initially learn about Medtrics Lab?
I got involved with Medtrics Lab though a unique way. During the summer of 2014, I had an internship at a microfinance non-profit. When I got to school this semester, I realized I missed the daily interactions with entrepreneurs I had during that summer. I decided to start a column in the Bucknellian focusing on entrepreneurs, allowing me to share my love of entrepreneurship with the campus as well as interview local entrepreneurs. One of the businesses I interviewed was Medtrics Lab. After I interviewed them, they offered me an internship opportunity with them. Accepting was the best choice I've made this semester. I will likely be continuing my work with them after college.
Q&A with Seline Tan-Torres, Computer Science Class of 2017
What are your current responsibilities with Medtrics Lab?
As an intern, some of my responsibilities include helping to improve design features of tools that Medtrics offers and creating customer support tutorials which demonstrate the product.
How did you initially learn about Medtrics Lab?
I initially learned about Medtrics through Bucknell's career fair and applied after speaking with Santhosh and Chris.
What have you gained from the internship?
I have learned so much from these guys and the experience I've gained has been invaluable. One of the biggest takeaways I have from working at Medtrics is the importance of having a passion for what you are doing. The team is incredibly hard working and motivated to create a product with the ability to change the field the medical education.
What are your longer terms plans are with working for the team?
I plan on continuing working with Medtrics until the end of the semester.
Q&A with Matt Terry, Mechanical Engineering and Management Class of 2016
How did you initially learn about Medtrics Lab?
I initially met the Medtrics team at Bucknell's Fall Career Fair. It was a real surprise for me to see a few local startups standing right next to all of these large multinational companies. I had been trying to get more exposure to startups, and so I was eager to apply for an internship position and find out more of what it is like to run a startup company.  The first few meetings with the Medtrics team were all about hearing the story of how Medtrics came to be. It was very interesting to hear how Medtrics – a 3 year old software company – has already overcome many huge obstacles and is starting to become established next to decade old companies. It was easy to see that the founders knew what they were doing, and that I had a lot to learn through an internship opportunity.
What are your current responsibilities with Medtrics Lab?
Throughout the last 6 months, I have worn many hats in the company and I have already seen how this diversity of experience has translated to other parts of my life. Initially, I worked in development and saw just how important clear (but not over-)communication are to efficiently creating a friendly front-end user experience. Then, I began focusing on a new sales campaign where I began to understand just how important timing and tone are to landing a contract. It became necessary for me to learn more about the software itself as the line between sales and customer support disappeared. A few of the interns and I created the first set of tutorial videos to aid in the implementation phase of our software, which doubled as a means for learning the software ourselves.
Currently, one of the biggest challenges for Medtrics going forward is to become even more lean as we grow. As a company whose differentiator is that we make the simplest platform, we understand that the drawback is that this challenges us to manage our time and resources efficiently. There is a need for a team member to consider the financial side of major decisions, and keep Medtrics balanced between being simple to use and profitable.
What are your longer terms plans are with working for the team?
Although I plan on utilizing my mechanical engineering degree in another company, I plan on continuing part-time work with Medtrics – by helping to grow and expand the business, but at a rate which we can manage with our lean team.
"Clinical Education Simplified" Medtrics Residency Management Collaboration Simplified. Web. 28 Apr. 2016.