The Bucknell University Small Business Development Center (SBDC) and the Central Susquehanna Intermediate Unit (CSIU) are hosting an event on October 5, 2016 during Pennsylvania Manufacturing Week. The event is part of a nationwide effort to change perceptions of manufacturing today, draw attention to career opportunities available in a variety of sectors, and educate the public on the significant impact manufacturing has on the economy.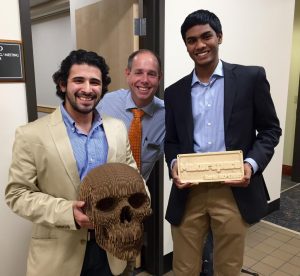 Students, educators, economic development officials, manufacturing professionals, and leaders from the business community will gather to celebrate the Grand Opening of a MakerSpace in Milton, PA. This event will:
Recognize the importance of the Maker Movement in education to the future of the nation's manufacturing industry;
Celebrate startup firm MakerEDU's collaboration with CSIU to create a MakerSpace that will inspire student makers and enable teachers to bring these tools to their schools;
Describe MakerEDU co-founders Diego Aldan & Uttam Kumaran's pathway from engineering students to entrepreneurs; as aided by Bucknell's SBDC; and
Feature hand-on project demonstrations of 3D printers and other tools of the Maker Movement by high school and college student "Makers"!
Maker EDU is a consulting firm providing customized design and commissioning services to organizations developing their own makerspaces. The firm's co-founders are Bucknell engineering students and SBDC clients Diego Aldana and Uttam Kumaran (above, with SBDC consultant and Incubator Manager, Dennis Hummer)
Learn more about Diego, Uttam, and their firm at www.MakerEDU.co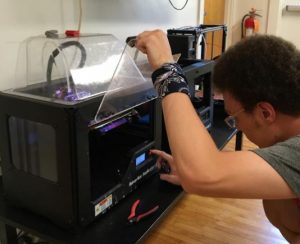 Pennsylvania has a deep history and rich legacy in manufacturing – it has long been the foundation for the state's economy. Today, manufacturing has an $85 billion impact on Pennsylvania's economy and is the 8th largest output in the United States. Manufacturing also employs over a half million workers in Pennsylvania, from a highly skilled labor force of more than 6.5 million, educated at nearly 300 educational institutions across the state. For a full list of Manufacturing Week events across the state, visit www.dced.pa.gov/mfgweek
The Bucknell SBDC helps makers of all products, from fabricated metal to furniture to food.  Businesses can receive no-fee, confidential assistance with business planning; market research; identifying potential funding options to start or grow your business; finding new markets locally, internationally, online, or within the government; product development planning & commercialization; understanding environmental regulatory requirements; business continuity planning; and succession planning.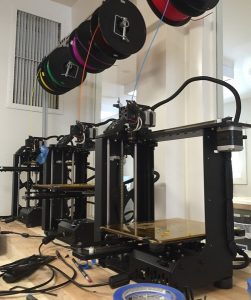 Desktop 3D printers abound at MakerSpaces. More about the Maker movement at Bucknell at www.bucknell.edu/makers