By Steven Stumbris
Director, Bucknell SBDC
Want to make a big difference in the nation's economy?
Start with your actions in your local community; especially your shopping decisions.
After enjoying the comfort of food and family on Thanksgiving, many of us will turn to the pursuit of big deals at big stores. But the biggest impact by far can be made on November 26; Small Business Saturday.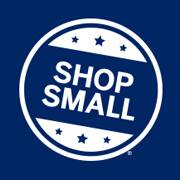 Last year over 95 million people went out into their local neighborhoods to shop at a small business during Small Business Saturday, and the year before that shoppers spent over $14 billion at small independent businesses during this single-day shopping event.
At businesses throughout the valley, shoppers this weekend will be greeted with special promotions, extended hours, and events celebrating small business. They'll be able to engage in conversations with their favorite stores on social media with the hashtags #SmallBizSat and #ShopSmall throughout the season.
They'll also have the knowledge that their purchases will support local business owners; and their employees and families. According to the U.S. Small Business Administration (SBA), about $68 of every $100 spent at a small business stays in the local economy; about $25 more than when shopping at a "big box" chain. When you shop at a small business, you're not only making an impact in the economy, you are also connecting with individuals in your community.
Small companies are big business, and they are vital to the American economy. Small businesses make up 99.7% of all companies nationwide and these firms employ almost half of the country's private sector workforce. In 2016 so far, Bucknell's Small Business Development Center (SBDC) has assisted 25 entrepreneurs to start their own small business.
Two of these 25 new businesses, Eclipse Craft Brewing Company and Crafted Cafe, were prize winners in last weekend's Sunbury Business Pitch Competition. Each will soon add to the flavor of downtown Sunbury where they will enjoy not only ongoing support from the SBDC, but from numerous area businesses and professionals who joined together with Sunbury's Revitalization Inc. to offer assistance and services to help them launch and grow.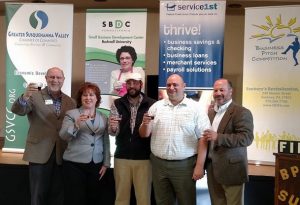 Eclipse Craft Brewing is toasted by this year's judges!
Other new businesses we've celebrated this year range from Brick House Hair, a styling salon opened by Amy Keister in Milton; to Keith Good and Greg Kanowicz, the "Soupie Brothers"; who produce their hand-crafted traditional sopressata, or "Soupies" in Mount Carmel, but ship nationwide. In Lewisburg we saw businesses inhabit new homes on Market Street, where entrepreneurs find a collaborative workspace in the recently opened Iron Front Cowork; and on the campus of Bucknell University, where student startups designing innovative technology-based products won prizes and connected with mentors in Bucknell's BizPitch competition.
The Bucknell SBDC is proud to support small business owners not only on Small Business Saturday, but throughout the year. Centers like ours exist across the state to serve entrepreneurs through a partnership with the SBA, Pennsylvania's Department of Community and Economic Development, and 18 universities and colleges. Across the country in the past year, SBDCs like Bucknell's served over one million small business owners, providing them with educational programs and no-fee consulting services.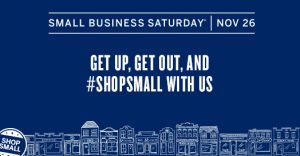 In the past week alone, the SBDC hosted "pre-business" workshop attended by more than forty aspiring business owners taking the first step to small business ownership, and joined the Central PA and Greater Susquehanna Valley Chambers of Commerce in promoting Small Business Saturday to hundreds of partners, leaders, and business owners in the region's business community.
To learn more about Small Business Saturday, visit www.Bucknell.edu/SBDC or www.shopsmall.com, and join the SBDC in supporting, celebrating, and – most importantly – shopping small businesses.
—–