StartupLewisburg, Bucknell University's home for innovators, has entered a partnership that connects local entrepreneurs with one of the largest incubator networks in the country.
With the addition of StartupLewisburg, the Ben Franklin Technology Partners of Northeastern Pennsylvania (BFTP/NEP) Incubator Network is now 15 members strong, and brings new opportunities for funding and collaboration to start-up technology firms in downtown Lewisburg.

StartupLewisburg member firm Play Impossible recently won BFTP/NEP's annual Venture Idol, a cross between Shark Tank and American Idol. Play Impossible also recently announced a $1 million investment round and was showcased at the 2017 Consumer Electronics Show as one of only four firms nationwide in Indiegogo's new equity crowdfunding program.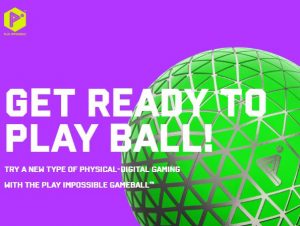 StartupLewisburg member firms also include RunLites, winner of a regional InnovateHER 2016 Business Challenge, and recent graduates include Mike Matukaitis of Brighton Training Group and Michael Levan of Novipod, winners of Bucknell Small Business Development Center's (SBDC), Small Business Person of the Year Award in 2014 and 2016 respectively.
Business incubation provides vital support to entrepreneurs and early-stage firms at their most vulnerable times and is often pivotal to their survival and prosperity. Member early-stage companies have access to the in-house consulting services of the SBDC, opportunities to collaborate with partners throughout both the Bucknell community and BFTP/NEP, as well as broadband internet service. StartupLewisburg is managed by Dennis Hummer, a consultant with the Bucknell SBDC, who holds a Business Incubator Manager Certificate through the International Business Innovation Association (InBIA).
The incubator network is an important element in BFTP/NEP's strategy for developing the technology infrastructure throughout a 21-county region of northeastern Pennsylvania. Ben Franklin staff meet with incubator network managers annually to exchange ideas and information, work collaboratively, and provide guidelines and training that are in accordance with InBIA standards. Ben Franklin's experience in business incubation has been recognized with its Ben Franklin TechVentures® winning the InBIA Incubator of the Year Award on two occasions.
The reduced operating costs of starting a company in a business incubator are typically what initially draw early-stage companies to an incubator facility. But the business development assistance and sharing of best practices among tenants and across collaborative network are often even more important. Members of the Ben Franklin Business Incubator Network are:
About Bucknell University SBDC
The Bucknell University Small Business Development Center (SBDC) has been helping businesses start, grow, and prosper for over 35 years in Union, Northumberland, Juniata, Montour, Perry and Snyder counties. The center provides education, information and consulting to entrepreneurs just investigating a market opportunity and developing a business plan, as well as to existing businesses seeking to innovate, grow, and sustain. The Bucknell University SBDC is part of the Pennsylvania SBDC network, the only statewide, nationally accredited program providing high quality one-on-one consulting, training and information resources to empower new and existing businesses. The SBDC program is a public/private partnership with the U.S. Small Business Administration, the Pennsylvania Department of Community and Economic Development and 18 universities and colleges across the Commonwealth.
About the Ben Franklin Technology Partners of Northeastern Pennsylvania
The Ben Franklin Technology Partners of Northeastern Pennsylvania (BFTP/NEP), an initiative of the Pennsylvania Department of Community and Economic Development and funded by the Ben Franklin Technology Development Authority, creates and retains highly paid, sustainable jobs by linking companies with experts, universities, funding, and other resources to help them prosper through innovation.