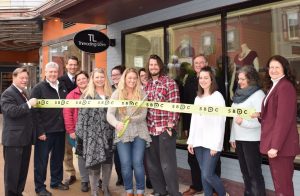 How many people would respond "Who will benefit ?" before answering the question "What would you like for your birthday?"? That is exactly the response given by Kaitlin Davis when asked how she ever became interested in starting a retail store. " When people asked me what I would like for a gift I first gave thought as to who would benefit from the purchase". It was that selfless attitude that prompted her to wonder how she could make others aware of making purchases with a purpose.
In spring of 2014 Kaitlin came to the SBDC interested in starting a retail operation in downtown Lewisburg. She never worked in retail, nor did she ever own her own business but, she had a passion for finding a way to help others around the globe. She was keenly aware of the suffering caused by sex trafficking, poverty, homelessness, harsh living and working conditions. Now she wanted to "shed light on what is happening all around the world, including the United States, and encourage people to purchase with a purpose".
During her initial meeting with the SBDC Kaitlin was introduced to the basic start up procedures. Over the next few weeks she completed a business plan, found a location, obtained a line of credit for working capital, lined up suppliers and began placing merchandise orders. Along with family and friends she worked hard to renovate the rented store space, add fixtures and displays, and a POS system.
In summer of that same year, a grand opening celebration was held with the SBDC for her new business, Threading Love. The purpose of the operation is to "connect people from around the world by using fashion to save lives". The store proudly displays numerous hand crafted and fair trade items including clothing, jewelry, pottery, home furnishings, handbags and greeting cards from suppliers including The Giving Keys, Ten Thousand Villages, Papillon Enterprise, 31 Bits, Imagine Goods, Wildflower, Threads 4 Thought, AIM, Little Bee, Krochet Kids, CFA and many others. Tags and cards tell the inspirational stories of each organization and the skilled crafter who made the item. The purchaser then gains a better understand of the individual and organization they are helping.
Just under two years later, the SBDC once again celebrated a ribbon cutting with Kaitlin as she moved her successful business into a larger location: right across the street from the SBDC in downtown Lewisburg!