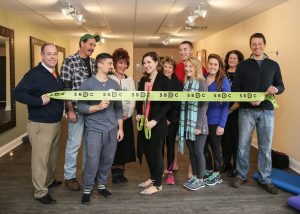 As a lifelong dancer and passionate teacher, it doesn't come as a surprise that Leanne Matullo had dreams of one day opening her very own yoga studio. However, she wasn't always a fan of the yoga lifestyle. It took several different experiences with yoga for Leanne to become hooked. When she finally became invested in the practice more than five years ago, the roots of her business, Yoga Dear, began to grow. "Give yoga more than one chance," Leanne writes in a public invitation to her yoga studio, "I guarantee it will set your mind and your body free".
Leanne's vision for her studio, students, and programs, was strong from the beginning, but the guidance from the Small Business Development Center on bank loans, financial projections, and market research prepared her to have a successful start and packed studio from day one. Leanne engaged the SBDC in April, 2015, and opened for business less than nine months later. Leanne's vision is to make yoga approachable for people of all ages. Her yoga studio has the simple goal of "Developing self-Esteem And Respect" (DEAR) for all through the practice of yoga.
Yoga Dear opened on January 9, 2016, and offers a range of classes, including beginner, Vinyasa, power, intermediate, advanced, and many more. Friends, family, supporters, and customers joined Leanne at a ribbon cutting ceremony coordinated by the SBDC to celebrate Yoga Dear's opening day at the beginning of the new year.
Today, people are praising the studio, led by Leanne and four other instructors. One participant writes on the Yoga Dear website, "I would take a yoga class every single day with Leanne if I could!" Another participant's testimonial reads, "Leanne's instructional style is inspiring and challenging, with a beautiful flow."
Leanne has expressed many times to correspondents that she is grateful for the Small Business Development Center's support during her journey through the entrepreneurial process.
Now that Yoga Dear is open to the public, people can experience yoga in downtown Lewisburg on a per-session basis or as regular members throughout the year. To "strengthen the body, challenge the mind, and invigorate the senses" in a personal, vibrant, and fun way is what Leanne and her studio hope to do for people every day.